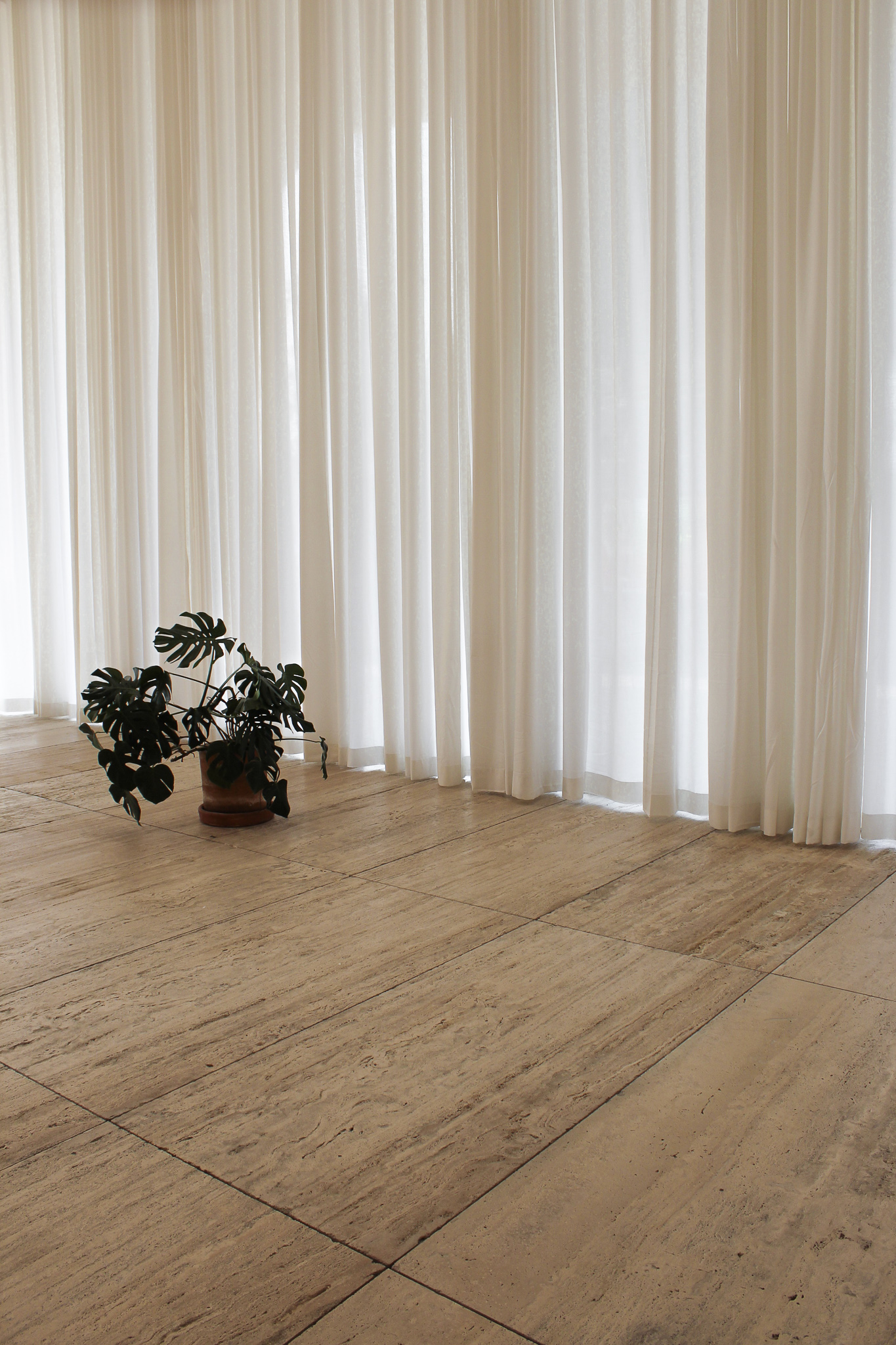 ARTS & CULTURE

Museo Jumex
Mexico City


August 2018
Museo Jumex is a sanctuary in the middle of Polanco's expanse of commercial complexes. Situtated directly next to the iconic silver wave that is Museo Soumaya, Jumex's David Chipperfield travertine building is certainly the more understated of the two.
I find its structural design so peaceful that on several visits I've spent more time just enjoying its wide outdoor corridors than I have taking in the actual shows. It is the perfect place to read, draw or meditate, and unlike almost anywhere else in the city of twenty-two million, it is rarely crowded. Definitely make a trip to the basement level, which in addition to generally having a small exhibition going on (and the bathrooms), has the most incredible floor; it's a literal work of art. Designed by Martin Creed, it is comprised of multicolored stone strips entitled Work No. 1051.
Regarding its other art, Jumex has a respectable collection in its own right and consistently hosts impressive and thoughtfully curated international exhibitions. The photos shown are from past exhibitions by Franz Erhard Walther, Fernanda Gomes and Rogério Duarte.
Of all the contemporary art in Mexico City, Jumex is my hands-down favorite. Museo Tamayo is lovely and well-located within Parque Chapultepec, but is kind of forgettable in the grand scheme of art museums (sorry if this claim offends anyone); MUAC, or the Museo Universitario de Arte Contemporáneo, part of the UNAM campus, is a far trip to the south and has had, in my subjective experience, some pretty hit or miss exhibitions. If you have the time and interest for all three (not to mention the city's smaller art museums and galleries), absolutely do; if not, make Museo Jumex the one you visit.
If, like mine, your companion is one to need some caffeine before taking on a museum, there's a newly-opened café Eno, lead by Pujol's Enrique Olvera, with open-air seating on the ground level. Museo Jumex also has a small but mighty gift store in its lobby.
General admission is a modest fifty pesos, with free admission on Sundays;
closed Mondays. ⁍
Museo Jumex
|
website