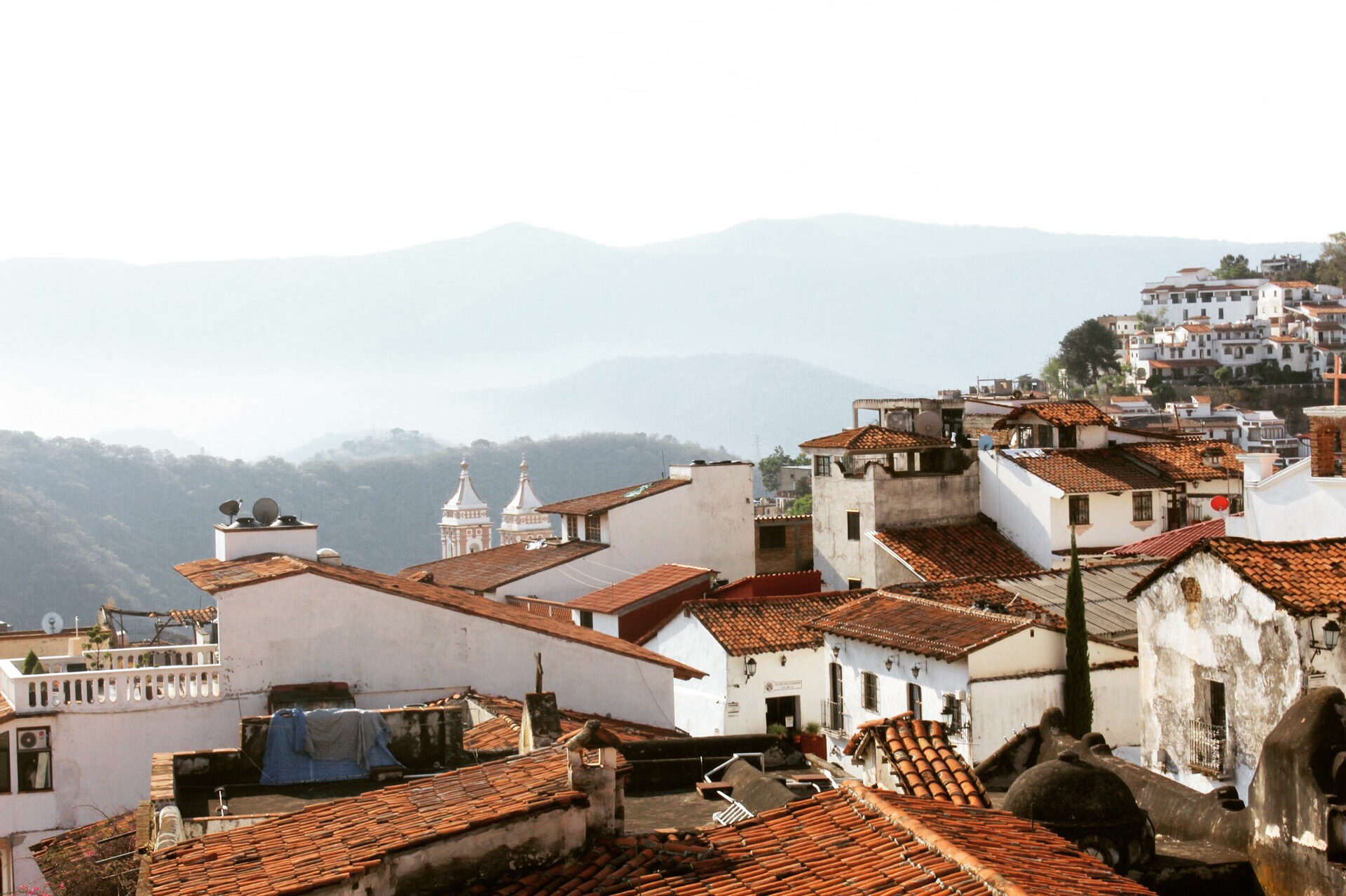 ACCOMMODATION
Hotel Los Arcos
Taxco de Alarcón, Guerrero
May 2018
You will not find any trendy accommodations, or trendy anything, in Taxco de Alarcón. It is a small colonial town tucked in the mountains of Guerrero about two and a half hours southwest of Mexico City; touristed, but mostly by other Mexicans coming from neighboring states. Still, what Taxco (pronounced tahs∙co, the letter 'x' in Mexico is not phonetic) lacks in cool, it makes up for in genuine beauty, and its hotel par excellence is Los Arcos.
Like the rest of the town, Los Arcos is a white building with orangish-red accents and a terra cotta tile roof; found towards the top of a sloping cobblestone street, it is just two or so blocks from Taxco's main plaza. Most places you'll likely visit are within walking distance (perhaps not the
teleférico
, or cable car, offering panoramic views of the town from Montetaxco), although for those less keen on getting around on foot, the town is literally packed with Volkswagen beetles that serve as taxis; they have the quirk of removed front passenger seats, for easier access to the back given that they have only two-doors. When I asked a
taxista
why so many VWs, he told me that their rear-wheel drive, apparently uncommon in Mexico, is the only way to get up the steep roads - created long before the existence of automobiles - in the rainy season.
But back to Los Arcos: the building was originally constructed in the late 16th century and oozes colonial charm with a stunning interior courtyard full of plants and a tree. The furnishings are traditional heavy woods, with embroidered textiles that might almost seem hip in any other context, but here feel more like what just happened to be on hand. Rooms are remarkably varied in size, layout and color, home-like and without too much intention to create any experience other than cozy comfort.
The hotel's restaurant Sotavento is open-air, a covered extension of the interior courtyard. I'm always suspicious of a frozen margarita (especially when it only costs forty-five pesos), but the first was good enough that I ordered a second, and the guacamole was generously portioned and with plenty of
accoutrements
. We didn't have a full meal there, but in the evenings the restaurant was always buzzing with large family gatherings and seemed to be as popular as anywhere in town.
I recommend early hour coffees on the large rooftop terrace, with three-sixty degree views of the little clay-roofed houses stacked up the mountains, the morning fog perhaps still lingering across the valley. In fact, after you've explored a bit and stocked up on silver in one of Taxco's countless shops, the whole hotel entices you to take your time in one of its many quiet corners, with nothing to do but enjoy. ⁍
Hotel Los Arcos
|
website